AZIENDA AGRICOLA BIOLOGICA
Our philosophy at the farm, Leone Conti, and at the Locanda della Fortuna is the same: respect for tradition, attention to quality and a deep love for the land. 
Tradition and experimentation have always been at the heart of the Leone Conti Winery. Since the 1950's the Conti family has been making wines from traditional native grapes. Innovation and a willingness to experiment have fostered success and the winery is esteemed nationally and internationally
Our vineyards are located in the foothills between Santa Lucia and Oriolo dei Fichi, an area of vast biological diversity. We are committed to preserving and protecting this precious heritage through using only the best innovative organic farming methods. We are dedicated to cultivating biodiversity while maintaining total respect for our land and its traditions. In addition to wines, we also make organic extra-virgin olive oil and organic stone-ground flour all of which are available at the Locanda della Fortuna.
Wines
Traditional and native heirloom varietals are the foundation for all our wines. Our white, red and rosé wines all showcase the biodiversity and authenticity of our terrior. Growing next to the classic regional grapes, Albana and Sangiovese, we have various "forgotten" varietals e.g. Ruggine and Centesimino, which we are bringing back to life in our vineyard and in our wines. 
Extra-Virgin Olive Oil
Luna and Lupo, our extra-virgin olive oils, are made exclusively with olives grown in our olive groves. We hand pick olives from 6 different Italian cultivars and press them within 24 hours of harvesting. This artisanal process assures high quality and excellent flavour. 
Stone-ground "Ardito" wheat flour
Our flour is another example of our desire to experiment and reconnect with our past. On our farm we grow organic "Ardito" wheat which is the stone-ground in small batches at a local mill.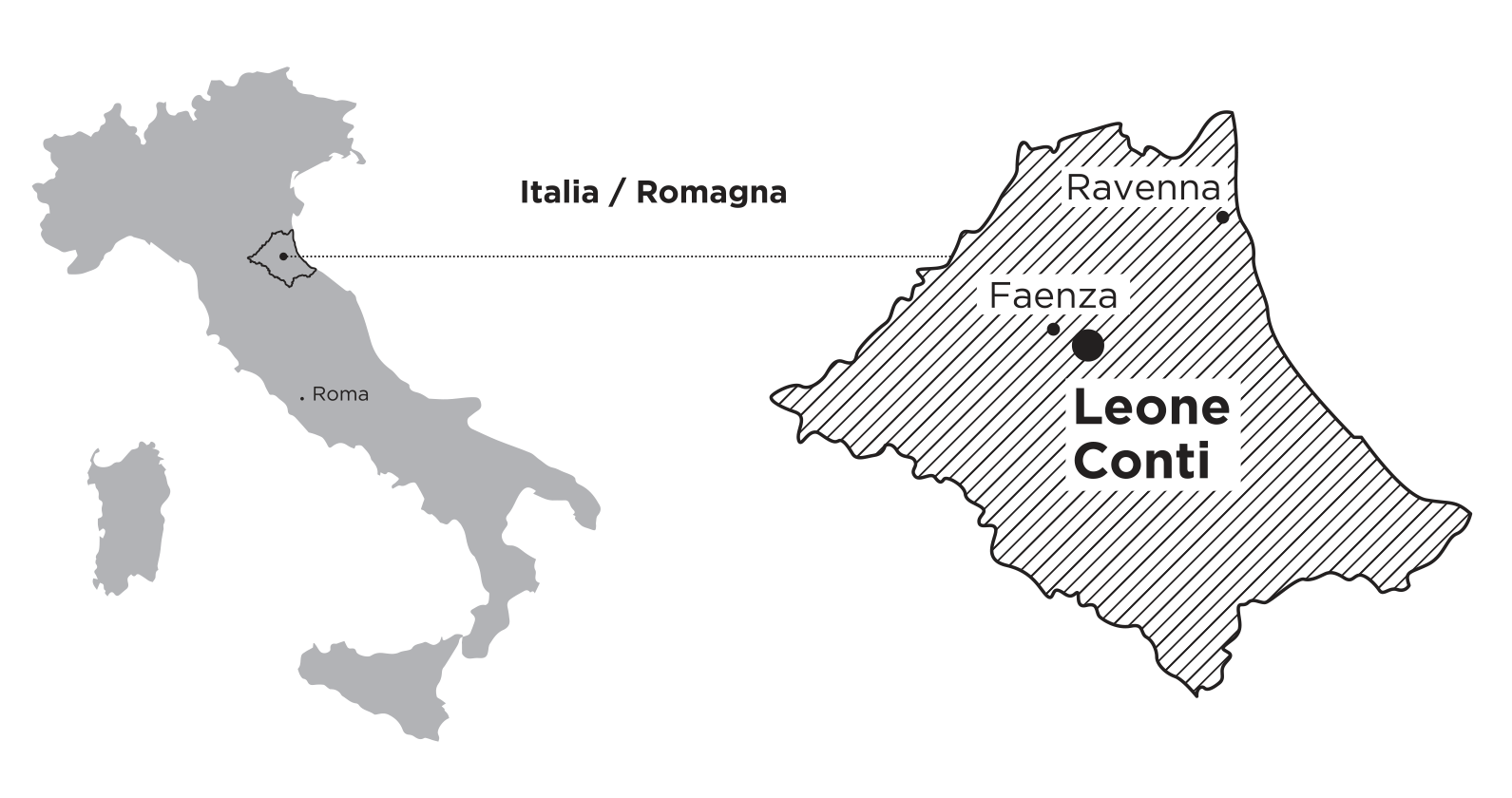 LEONE CONTI SOCIETÀ AGRICOLA
Via Pozzo 1, Loc. Santa Lucia – Faenza (RA)
LOCANDA DELLA FORTUNA
Via San Mamante, 136
Loc. Oriolo dei Fichi – 48018 Faenza (RA)
PHONE
+39 0546 642318
+39 339 7236478